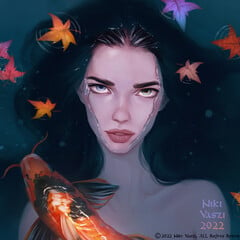 Niki Vaszi
2D Artist www.nikivaszi.com
Plymouth, United Kingdom
Summary
Hi, I am Niki and I am a freelance 2D Artist.
I work on board games, card games, book covers and concept art for various fields. I am able to deliver projects from concept phase to finished products in time.
I consider myself someone who loves to expand her knowledge, always look for learn more, open minded, enjoys the process of creating art and up for challenges.
In my freetime, I develop my original characters, Neeko Northwind and Jessie Norrington, and the world they live in.
Skills
Concept Art
Digital Painting
Illustration
Game Design
Character Design
Software proficiency
Productions
Board & Card Games

Tiny Epic Crimes - Kingpins

Year

2022

Role

Illustrator

Company

https://www.gamelyngames.com/

Board & Card Games

Tiny Epic Dungeons

Year

2021

Role

Box inside illustration, armor sets

Company

Gamelyn Games https://www.gamelyngames.com/

Board & Card Games

Tiny Epic Pirates

Year

2020

Role

Deluxe Character Art, skeleton crew, box inside illustration, market card art

Company

Gamelyn Games https://www.gamelyngames.com/

Board & Card Games

Tiny Epic Dinosaurs

Year

2020

Role

Illustrations, card designs, maps, box art

Company

Gamelyn Games https://www.gamelyngames.com/